Comcast tracks what you watch, and uses that and other info about you to target ads. (This white paper from Experian details what Comcast and other cable companies are doing.)

The federal Cable Privacy Act prohibits cable companies from collecting personally identifiable viewing data without proper consent. We believe that's what Comcast does, and that we can probably recover real money for subscribers that have opt-ed out of arbiration, or still call opt-out of arbitration—this is easy if you just signed up for service, as you have 30 days.


Hear from Ray
People who recently activated Comcast TV service, and people in certain states, have the best claims. But most Comcast subscribers appear to have good claims. Take the free survey. Learn whether we can help you.
Here is the class action we filed for California Comcast customers.

Why This Case Is Important

Under federal law, you decide whether to share your personal data with your cable company. If your cable company keeps and uses your personal data without your knowledge or consent, you lose control over your private information, risk its disclosure in a data breach, and are exposed to manipulative, personally targeted ads. By suing, you may be able to recover up to thousands of dollars in statutory damages and make a stand for privacy.

How to Join

To join, or just learn more about the case and whether you qualify, click here.
Ray E. Gallo of Gallo LLP is responsible for this website.
Ray graduated from Yale in 1987 and earned his law degree from UCLA in 1992. He is a repeat winner of AVVO's clients' choice awards, holds AVVO's perfect 10/10 rating, Martindale Hubbel's "Pre-eminent" "AV" rating, and has been named as one of LawDragon's 100 Leading Legal Consultants and Strategists nationally. Mr. Gallo's scores of five star AVVO reviews reflect his clients' consistent satisfaction. While he represents senior executives and business, he also crusades for consumers and for clients who can't afford to pursue their claims unless they organize through a site like this one. He believes everybody deserves access to justice. To read more about his efforts and his successes click the links below.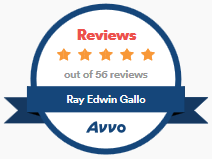 Read testimonials from consumer, executive, and corporate clients, and testimonials from our former opposing counsel below.



Notice
This website is attorney advertising. This website is not an offer to provide legal services but, depending on your answers to our questions here, we may offer to be your lawyers. We are not your lawyers until you and we sign our written fee agreement. The information on this site is not legal advice. Our statements here are our opinions only. Our past results depended on the unique facts and law of those cases, and do not constitute a guarantee, warranty, or prediction of the outcome of any other matter, including this one. If we offer to represent you, it's because we think you have a claim worth asserting, one that we're willing to risk our valuable time and money prosecuting. Having a good claim is not money in the bank, though. The outcome of all cases is uncertain. Our proposed fee agreement specifies that you will not pay us anything, either fees or costs, from your pocket. We will look solely to the defendant(s) to be paid. Please read our website Notices, Terms, and Conditions for additional terms of use for this website. Please also see the terms of use at
https://gallo.law/terms
, which are incorporated as though repeated here.